It has been a while since we've spoken, but we hope this note finds everyone safe and well, and moving ahead with 2021 in a more positive frame of mind. 
COVID is still with us and will be for some time, but with experience and a vaccination program under way, perhaps we now dare to consider a degree of normality while recognising that adjustments may well be necessary along the way, e.g. the recent lockdown, following which restrictions are again slowly being eased.
At Camberwell Chorale we haven't just dared to consider … we've taken action, we're moving forward!  We've been in COVID-safe rehearsals for some weeks, preparing performance works for presentation to our loyal audiences. 
Yes, we've had to adapt to COVID circumstances that have presented, and we'll continue to adapt as and when required, but that said, we're excited to share with you all a performance program for the remainder of 2021, all concerts taking place at the Hawthorn Arts Centre:  Take a look at what's in store:
Sunday, 29 August
A very special return to performance featuring The Pied Piper of Hamelin by Sir Hubert Parry, From the Bavarian Highlands by Sir Edward Elgar, and the beautiful Kyrie from Dame Ethel Smyth's Mass in D.
Sunday, 10 October
The presentation of Handel's Foundling Hospital Anthem XVI, written for the Foundling Hospital in London and first performed in its chapel, and the Ultrecht Te Deum & Jubilate Deo, written by Handel to celebrate the peace of Ultrecht in 1713; we'll also perform Haydn's Te Deum in C Major.
Sunday, 28 November
Messiah!
A performance program has been a long time coming, and we're so looking forward to having you all with us as we again embark on a wonderful journey of making and enjoying beautiful music together.
From all of us at Camberwell Chorale please take care.  We'll advise further details regarding our concerts when they become available, and we'll look forward to seeing you all at the Hawthorn Arts Centre on 29 August for our return performance.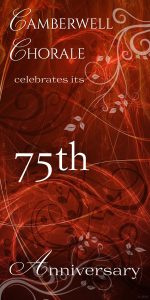 Welcome to Camberwell Chorale's website. We hope you find the information you want about our concerts, about joining the choir, or about anything else . . .
The Camberwell Chorale is a community of people which meets regularly to share the joy and challenge of learning and performing quality choral music. Members come from all around Melbourne, gathering in the City of Boroondara to celebrate their love of music, and to prepare for the usual five or six concerts a year. The Chorale has been doing this since 1944, and it's still going strong!
We would welcome your application for Choir membership, your presence at our concerts, or your invitation to the Chorale for a performance at an occasion of your choice.
Camberwell Chorale is a member of ANCA.
Camberwell Chorale is proudly supported by the City of Boroondara.
Camberwell Chorale, Inc. (ABN 31 633 717 882) is endorsed as a Deductible Gift Recipient from 10 Aug 2001. It is covered by item 1 of the table in section 30-15 of the Income Tax Assessment Act 1997. The Camberwell Chorale Donations Fund is a tax deductible fund listed on the Register of Cultural Organisations under Subdivision 30-B of the Income Tax Assessment Act 1997.