To our wonderful Friends, Followers and Supporters
We hope this note finds everyone safe and well, and perhaps taking a breath after an extraordinary 2020, a year that tested each and every one of us on a personal level, and also a year that saw people and communities strive to remain engaged during the difficult times we faced.
Camberwell Chorale is one such community, and while COVID-19 remains with us at this time, there appears to be some light at the end of a very foggy pathway, sufficient light that we may now permit ourselves to look to the time when we can again make beautiful music, and to do so with a sense of joy and achievement having emerged from such extraordinary circumstances.
The fact that Camberwell Chorale remains united is testament to the extraordinary effort of our wonderful Musical Director, Douglas Heywood. Doug has kept members engaged each week with online music appreciation sessions (aka the Camberwell Chorale "Music Club"), enabling those participating to learn, be enlightened and to have a sing, an online program which culminated in a wonderful Nine Lessons & Carols Service in early December. So ably supported by our Assistant Musical Director, Alexandra Cameron, together Doug and Alex laid the foundation for us to move into 2021 with confidence that we will be together again, that we will perform again, and that we will delight audiences again!
We are hopeful that it will not be too long before members of the Chorale can again come together to enjoy the challenge of learning new works, and in fact, we believe the resumption of rehearsals, in a COVID-safe manner, may now be within sight. However, the pathway to performing those works for your enjoyment continues to remain very foggy, but when we consider the challenges we have faced (and continue to face), it is with one careful step at a time that we will all be together again, moving forward as a community united in the love of beautiful music.
From all of us at Camberwell Chorale, our sincerest best wishes for 2021 … please continue to take care, stay safe, stay healthy, and we'll you see you soon.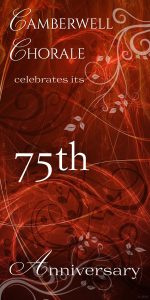 Welcome to Camberwell Chorale's website. We hope you find the information you want about our concerts, about joining the choir, or about anything else . . .
The Camberwell Chorale is a community of people which meets regularly to share the joy and challenge of learning and performing quality choral music. Members come from all around Melbourne, gathering in the City of Boroondara to celebrate their love of music, and to prepare for the usual five or six concerts a year. The Chorale has been doing this since 1944, and it's still going strong!
We would welcome your application for Choir membership, your presence at our concerts, or your invitation to the Chorale for a performance at an occasion of your choice.
Camberwell Chorale is a member of ANCA.
Camberwell Chorale is proudly supported by the City of Boroondara.
Camberwell Chorale, Inc. (ABN 31 633 717 882) is endorsed as a Deductible Gift Recipient from 10 Aug 2001. It is covered by item 1 of the table in section 30-15 of the Income Tax Assessment Act 1997. The Camberwell Chorale Donations Fund is a tax deductible fund listed on the Register of Cultural Organisations under Subdivision 30-B of the Income Tax Assessment Act 1997.