To our wonderful Friends, Followers and Supporters
We're delighted and excited at being able to recommence rehearsals at our regular venue at Camberwell Baptist Church, albeit in a CovidSafe manner. Some members are joining with us via Zoom, which is proving to be a very suitable alternative to attending in person.
We don't yet have a concrete concert schedule, but are working on pieces for our first concert on a date to be finalised.
We would love to have new members come and rehearse with us.
We look forward to sharing our music with you.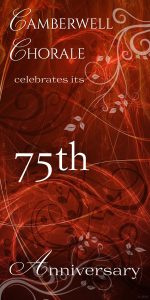 Welcome to Camberwell Chorale's website. We hope you find the information you want about our concerts, about joining the choir, or about anything else . . .
The Camberwell Chorale is a community of people which meets regularly to share the joy and challenge of learning and performing quality choral music. Members come from all around Melbourne, gathering in the City of Boroondara to celebrate their love of music, and to prepare for the usual five or six concerts a year. The Chorale has been doing this since 1944, and it's still going strong!
We would welcome your application for Choir membership, your presence at our concerts, or your invitation to the Chorale for a performance at an occasion of your choice.
Camberwell Chorale is a member of ANCA.
Camberwell Chorale is proudly supported by the City of Boroondara.
Camberwell Chorale, Inc. (ABN 31 633 717 882) is endorsed as a Deductible Gift Recipient from 10 Aug 2001. It is covered by item 1 of the table in section 30-15 of the Income Tax Assessment Act 1997. The Camberwell Chorale Donations Fund is a tax deductible fund listed on the Register of Cultural Organisations under Subdivision 30-B of the Income Tax Assessment Act 1997.