100 Years of Broadway, Sunday 16 July 2023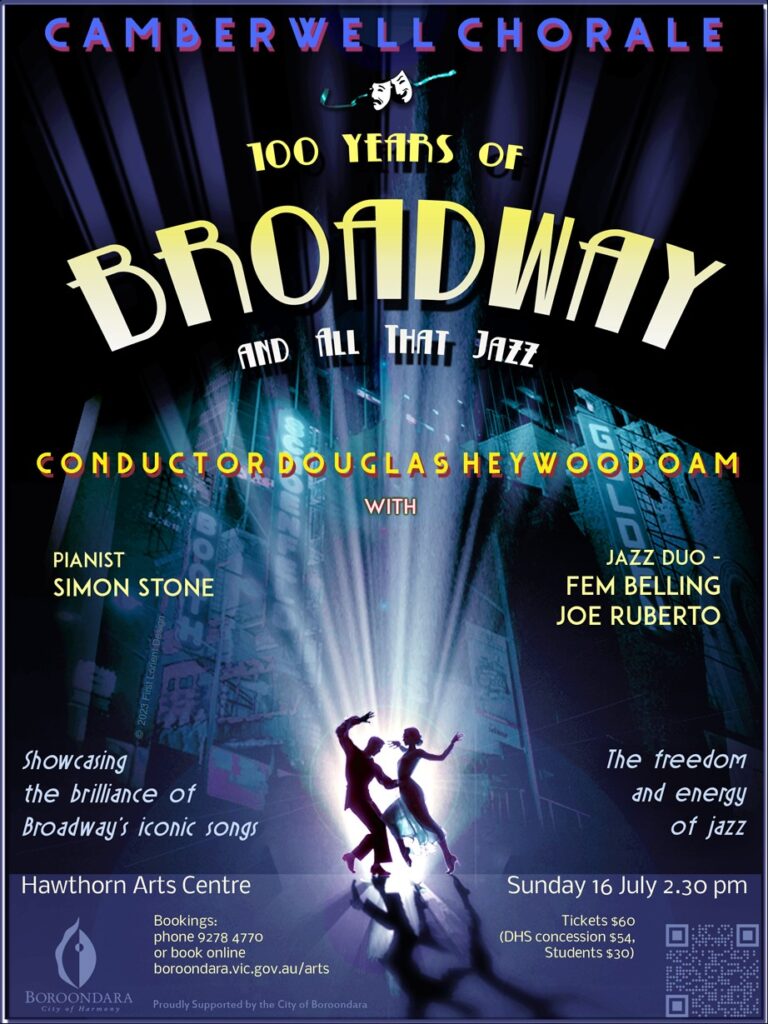 Join us at the Hawthorn Arts Centre, Burwood Road, Hawthorn, on Sunday, 16th July 2023 at 2:30 pm for 100 Years of Broadway and All That Jazz.
During the early years of Broadway, the great musicians of Tin Pan Alley like George Gershwin, Cole Porter and Jerome Kern gave the world some of its most treasured Broadway melodies.
From the 40's onward such shows as Oklahoma!, The Sound of Music, Oliver, South Pacific, The King and I, The Music Man, Jesus Christ Superstar, Evita, Cats, Les Miserables, Phantom of the Opera, Grease and many more have entertained us. Excerpts from these, and other shows, will be presented as the Camberwell Chorale presents 100 Years of Broadway.
Also performing at the concert are the the internationally acclaimed Jazz musicians Joe Ruberto and Fem Belling.
For more details use our contact form, or Book online
Other Concerts in 2023:
Sunday 15th October: Mozart's Family—Leopold Mozart Litaniae de Venerabili; Wolfgang Mozart Requiem; Franz Xaver Mozart Piano Concerto Eb Op. 25
Sunday 26th November: Handel's Messiah