Two French Masters – Fauré and Saint-Saëns, Hawthorn Arts Centre, Hawthorn, Sunday 28 April 2019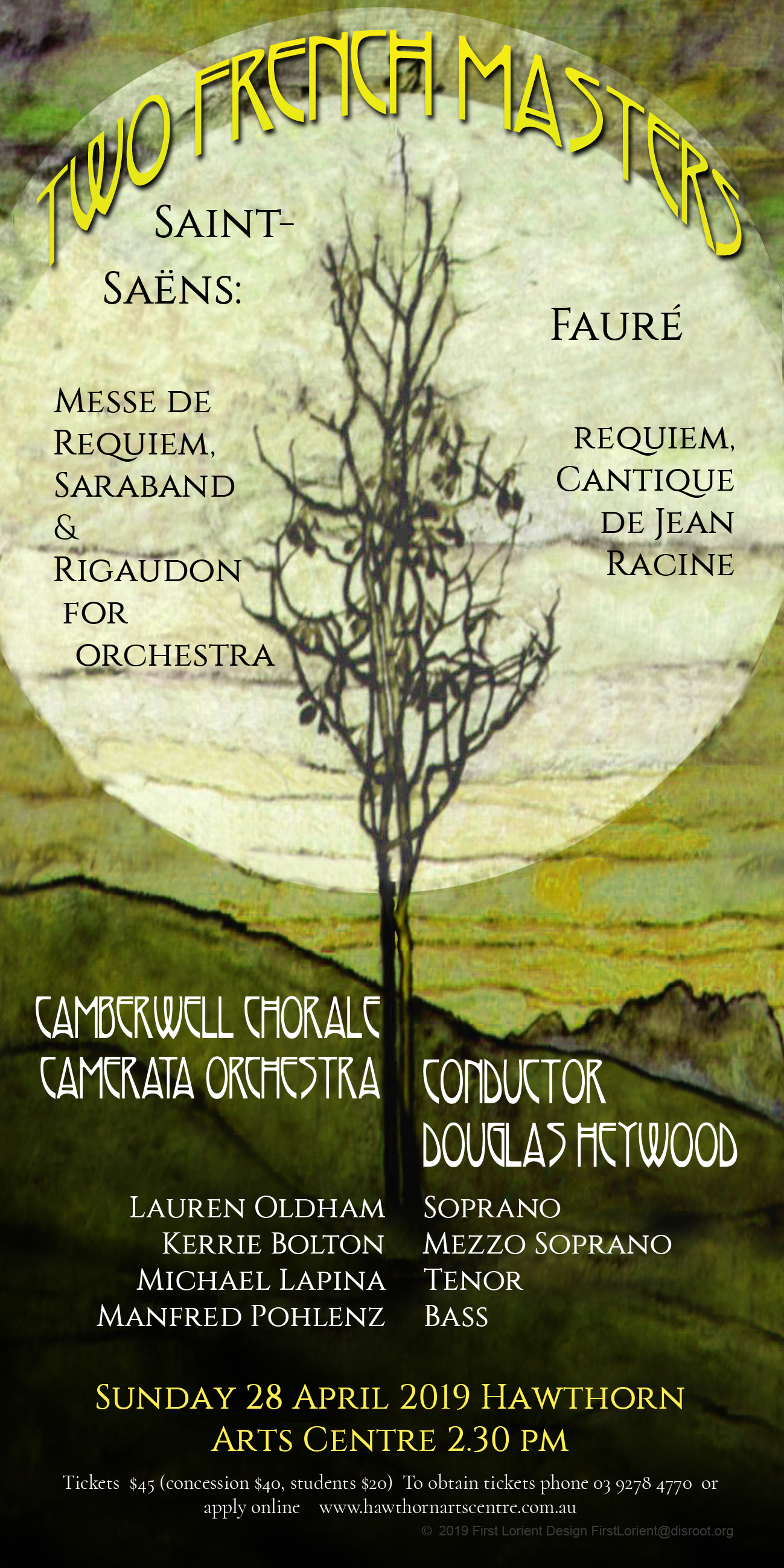 Join us at the Hawthorn Arts Centre, Burwood Road, Hawthorn, on Sunday, 28th April 2019 at 2:30 pm for Two French Masters – Fauré and Saint-Saëns.
In 1877 Saint-Saëns travelled to Switzerland to write a requiem at the request of his lifelong friend Albert Libon. The Messe de Requiem was completed in eight days and was performed under the composer's direction in 1878. Ten years later his pupil Gabriel Fauré composed his Requiem, possibly in response to the death of his father in 1885.
Both works are included in this programme as well as Fauré's famous choral work Cantique de Jean Racine.
The Camberwell Chorale is joined by the Camerata Orchestra and soloists Lauren Oldham (Soprano), Kerrie Bolton (Mezzo Soprano). Michael Lapina (Tenor), and Manfred Pohlenz (Bass).
Book Online or use our contact form to request more details.
Other Concerts in 2019:
Sunday 21st July: 100 Years of Broadway and All That Jazz at the Hawthorn Arts Centre

Sunday 20th October: Verdi's Requiem at the Hawthorn Arts Centre, Burwood Road, Hawthorn
Saturday 16th November: Handel's Messiah at Hawthorn Arts Centre, Burwood Road, Hawthorn
Saturday 23rd November: Handel's Messiah at Williamstown Town Hall, Ferguson St, Williamstown.
Sunday 8th December: Nine Lesson Carol Service