Verdi Requiem, Hawthorn Arts Centre, Hawthorn, Sunday 20 October 2019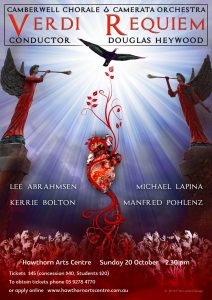 Join us at the Hawthorn Arts Centre, Burwood Road, Hawthorn, on Sunday, 20th October 2019 at 2:30 pm for Verdi's Requiem.
Few choral works have captured the public imagination in the way that Verdi's Requiem has.
The uncomplicated directness of his style, his soaring, lyrical melodies that lie perfectly for the human voice, the scintillating orchestration and, most significantly, the work's extraordinary dramatic and emotional intensity, all contribute to the Requiem's status as one of the great icons of Western music.
The Soloists for this performance are Lee Abrahmsen, Kerrie Bolton, Michael Lapina and Manfred Pohlenz.
Book Online or use our contact form to request more details.
Other Concerts in 2019:
Saturday 16th November: Handel's Messiah at Hawthorn Arts Centre, Burwood Road, Hawthorn
Saturday 23rd November: Handel's Messiah at Williamstown Town Hall, Ferguson St, Williamstown.
Sunday 8th December: Nine Lesson Carol Service