Music for the Theatre, Hawthorn Arts Centre, Hawthorn, Sunday 22 April 2018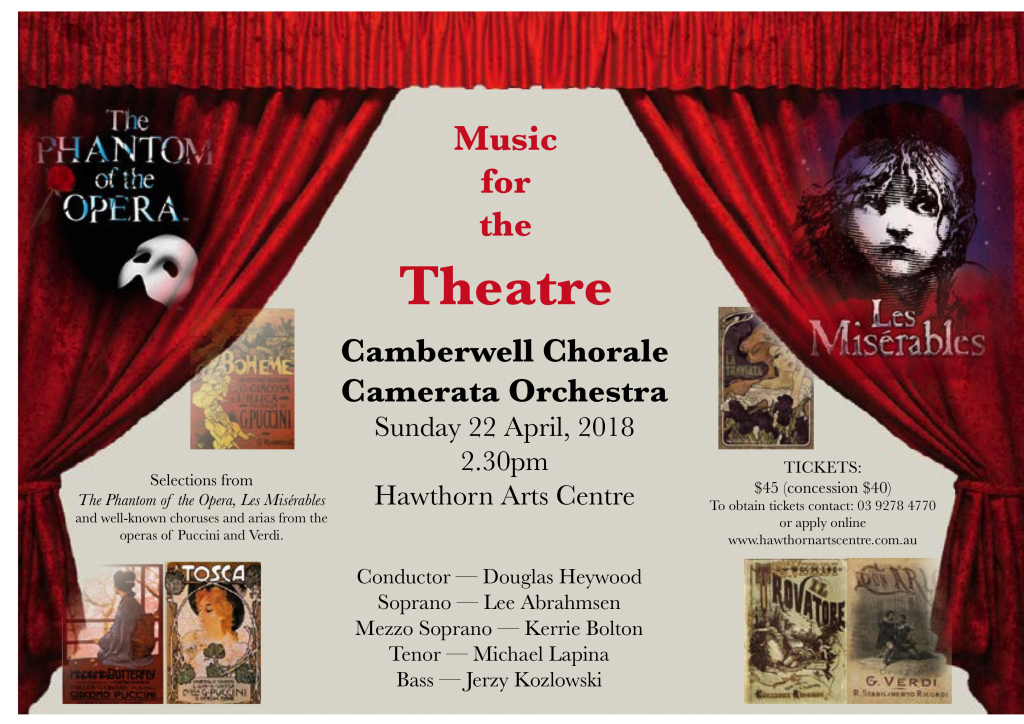 Join us at the Hawthorn Arts Centre, Burwood Road, Hawthorn, on Sunday, 22nd April at 2:30 pm for Music for the Theatre.
Following the choir's China Tour, the programme will be repeated in association with the Camerata Orchestra. We're delighted to be joined by Lee Abrahmsen – Soprano, Kerrie Bolton – Mezzo Soprano, Michael Lapina – Tenor, and Jerzy Kozlowski – Bass.
The first part of Music For The Theatre will be selections from The Phantom of the Opera, Les Miserables and the five spirituals from Michael Tippett's A Child Of Our Time. The second part will be a selection of well-known choruses and arias from the operas of Puccini and Verdi.
Book Online  or use our contact form to request more details.
Other Concerts in 2018:
Sunday 15th July: From the Baroque at the Hawthorn Arts Centre

Sunday 9th September: Haydn's Creation at the Hawthorn Arts Centre, Burwood Road, Hawthorn
Sunday 11th November: Singing the Journey at the Hawthorn Arts Centre
Sunday 18th November: Handel's Messiah at Hawthorn Arts Centre, Burwood Road, Hawthorn
Sunday 25th November: Handel's Messiah at St. Andrew's, Brighton
Sunday 9th December: Nine Lesson Carol Service