From the Baroque, Hawthorn Arts Centre, Hawthorn, Sunday 15 July 2018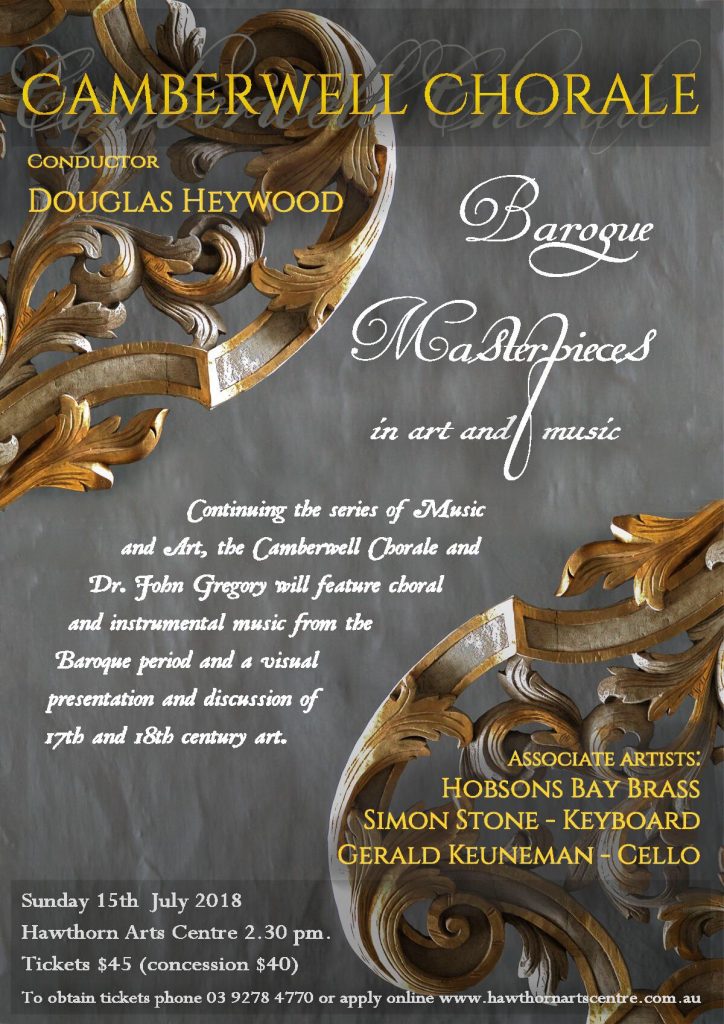 Join us at the Hawthorn Arts Centre, Burwood Road, Hawthorn, on Sunday, 15th July at 2:30 pm for From the Baroque.
This programme, continuing the series of Music and Art, will be presented by the Camberwell Chorale and Dr. John Gregory (formerly Associate Professor of Fine Arts, Monash University). The concert will feature choral and instrumental music from the Baroque period and include a visual presentation of art from that time.
Book Online or use our contact form to request more details.
Other Concerts in 2018:
Sunday 9th September: Haydn's Creation at the Hawthorn Arts Centre, Burwood Road, Hawthorn
Sunday 11th November: Singing the Journey at the Hawthorn Arts Centre
Sunday 18th November: Handel's Messiah at Hawthorn Arts Centre, Burwood Road, Hawthorn
Sunday 25th November: Handel's Messiah at St. Andrew's, Brighton
Sunday 9th December: Nine Lesson Carol Service