Haydn's Creation, Hawthorn Arts Centre, Hawthorn, Sunday 9 September 2018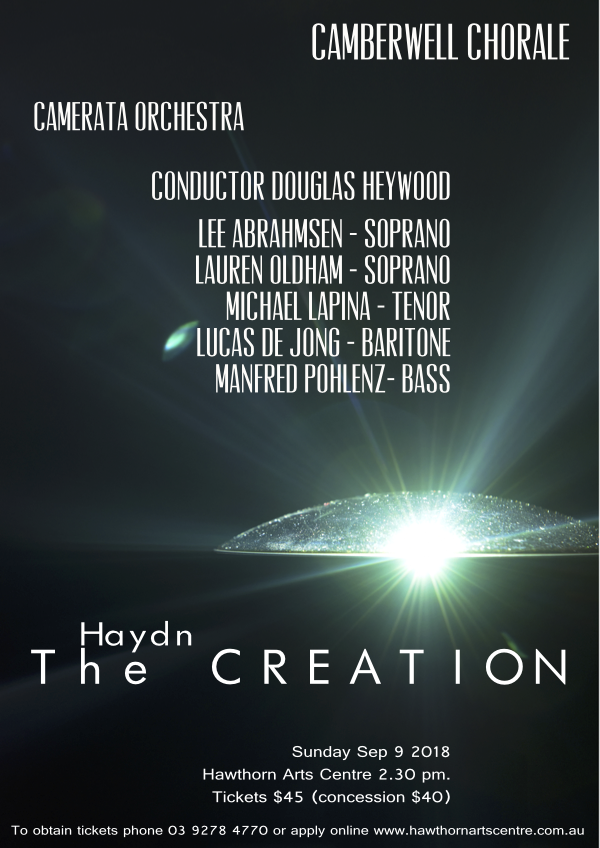 Join us at the Hawthorn Arts Centre, Burwood Road, Hawthorn, on Sunday, 9th September at 2:30 pm for Haydn's Creation with the Camerata Orchestra.
This choral masterpiece, from the pen of Haydn, is always a joy to sing. The uplifting and expressive choruses, the evocative and descriptive arias are a delight to hear and perform. Our soloists are Lee Abrahmsen (Soprano), Lauren Oldham (Soprano), Michael Lapina (Tenor), Lucas De Jong (Baritone) and Manfred Pohlenz (Bass).
Use our contact form to request more details.
Other Concerts in 2018:
Sunday 11th November: Singing the Journey at the Hawthorn Arts Centre
Sunday 18th November: Handel's Messiah at Hawthorn Arts Centre, Burwood Road, Hawthorn
Sunday 25th November: Handel's Messiah at St. Andrew's, Brighton
Sunday 9th December: Nine Lesson Carol Service
[wpgmza id="1″]