Ethel Smyth Mass in D, Sunday 9 October 2022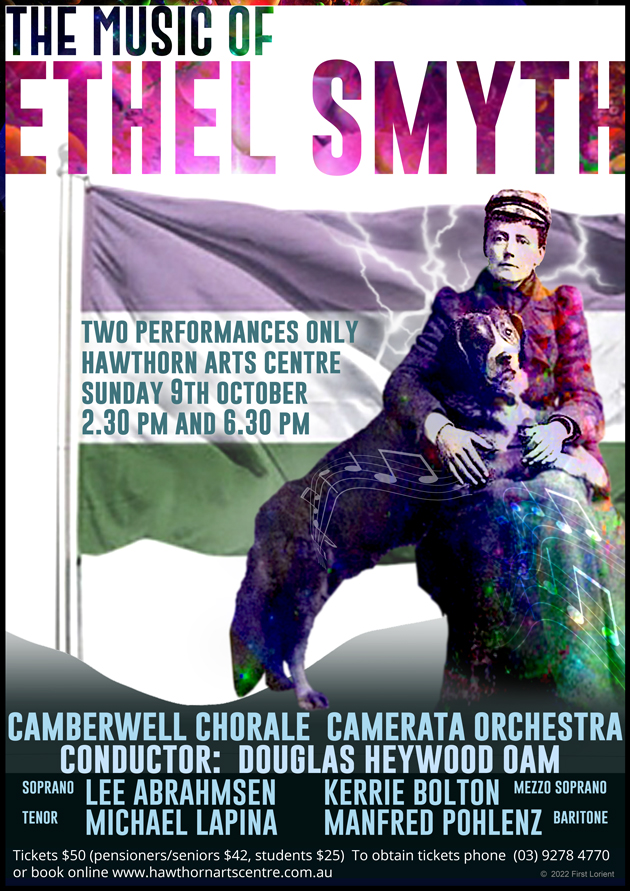 On Sunday 9th October, 2022, the Camberwell Chorale will perform the Australian premiere of Dame Ethel Smyth's Mass in D, a glorious work first performed at the Royal Albert Hall in 1893. This performance will be accompanied by an audiovisual introduction to this remarkable, yet less well-known English composer, also a member of the women's suffrage movement.
Two performances will be held at the Hawthorn Performing Arts Centre—at 2.30 pm and 6.30 pm.
Raised during the Victorian age, Smyth fought against societal restrictions that said a woman should not have a profession. As a result, she was the first woman composer to have her opera (Der Wald) performed at New York's Metropolitan Opera and was heavily involved in the Suffragette movement. Today, she would be heralded as a champion of women's rights and a pioneer for women in the classical music world, but until recently, she was relatively unknown.
A recent performance of her opera "The Wreckers" at the Glyndebourne Festival was a resounding success. Her "Mass in D Major" will be performed at the Royal Albert Hall in August this year. While you may not be able to attend the concert at the Royal Albert Hall, you can hear her "Mass in D" and two overtures from her opera "The Wreckers" at the Hawthorn Arts Centre on Sunday, 9 October. An opportunity not to be missed!
The soloists for this performance are Lee Abrahmsen, Kerrie Bolton, Michael Lapina, and Manfred Pohlenz.
For more details use our contact form, or Book online
Prizes available for early booking!
For anyone who books a ticket to The Music of Ethel Smyth until 5pm, Friday 16 September, you will go in the draw to win one of three generously donated Spring hampers from Caffe E Cucina Espresso Bar (Toorak Village, TokH).
The prizes will be drawn on Tuesday 4 October at our choir rehearsal. If you win and aren't there to collect your prize, we will contact you to organise collection.
Update: The winners are announced here.
Click here to view Terms and Conditions
Other Concerts in 2022:
Saturday 4th December: Handel's Messiah