Laugh with Parry, dream with Elgar, St John's, Camberwell, Sunday 17 July 2022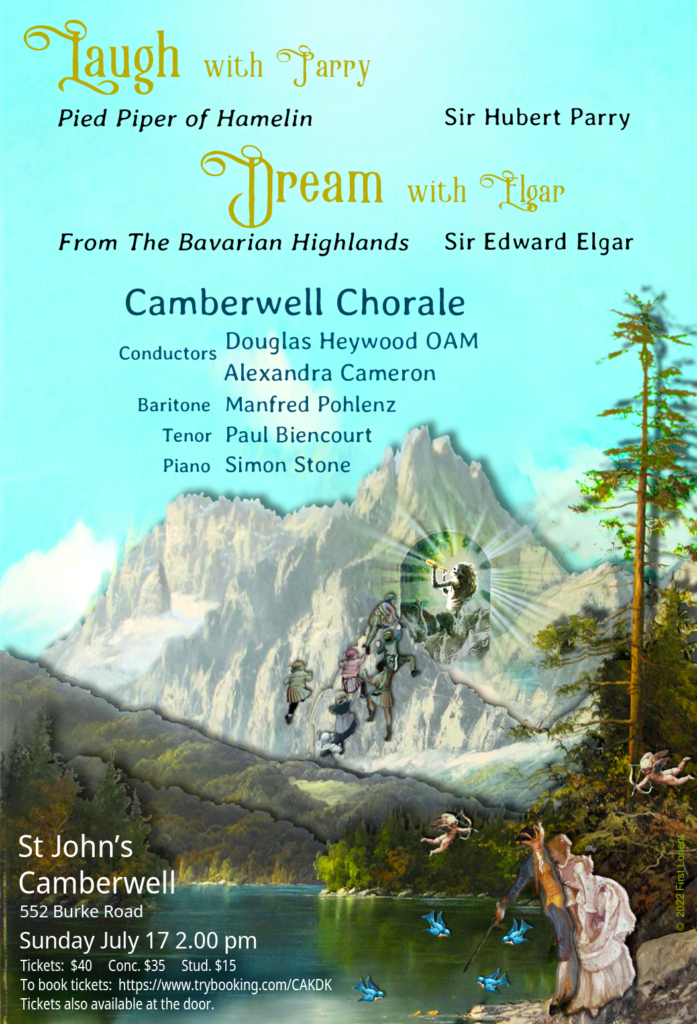 On Sunday, 17 July, at St John's Anglican Church, Burke Road, Camberwell, the Camberwell Chorale will present two contrasting works by two English masters – Sir Edward Elgar and Sir Hubert Parry.
On returning from holidays in Southern Bavaria in 1894 Elgar set to music poems that his wife, Alice, had written in the style of Bavarian Folksongs. His music captures the spirit of Bavarian folk music in this unassuming, but delightful work.
Parry's The Pied Piper of Hamelin captures the spirit of Robert Browning's classic legend of the town of Hamelin. Parry's setting tells the story of the Piper in a light-hearted way, with humour and great attention to the rhythm of the English language. His music cleverly reflects the spirit of the late Victorian era during the comic operas of Gilbert and Sullivan.
Conducted by Douglas Heywood OAM and Alexandra Cameron.
Baritone: Manfred Pohlenz
Tenor: Paul Biencourt
Piano: Simon Stone
Book Online or use our contact form to request more details.
Other Concerts in 2022:
Sunday 9th October: The Australian premier of Dame Ethel Smyth's Mass in D
Saturday 4th December: Handel's Messiah